Link para a reportagem em português, no site do Movimento Xingu Vivo Para Sempre:
http://www.xinguvivo.org.br/2012/06/14/xingu-23-14-06-um-dia-de-depoimentos/
Xingu +23, first day of work. Early in the morning, the 200 campers who had arrived in Santo Antonio the day before were awakened by a loud siren, coming from the bands of the construction site of Belo Monte that spreads across the other side Transamazônica Road in front of the village of Santo Antonio. Shortly after, the roar of dynamite, and the ground shook. It's like this every day, as say the few remaining residents in the ancient community, virtually deserted after the dumping of most families.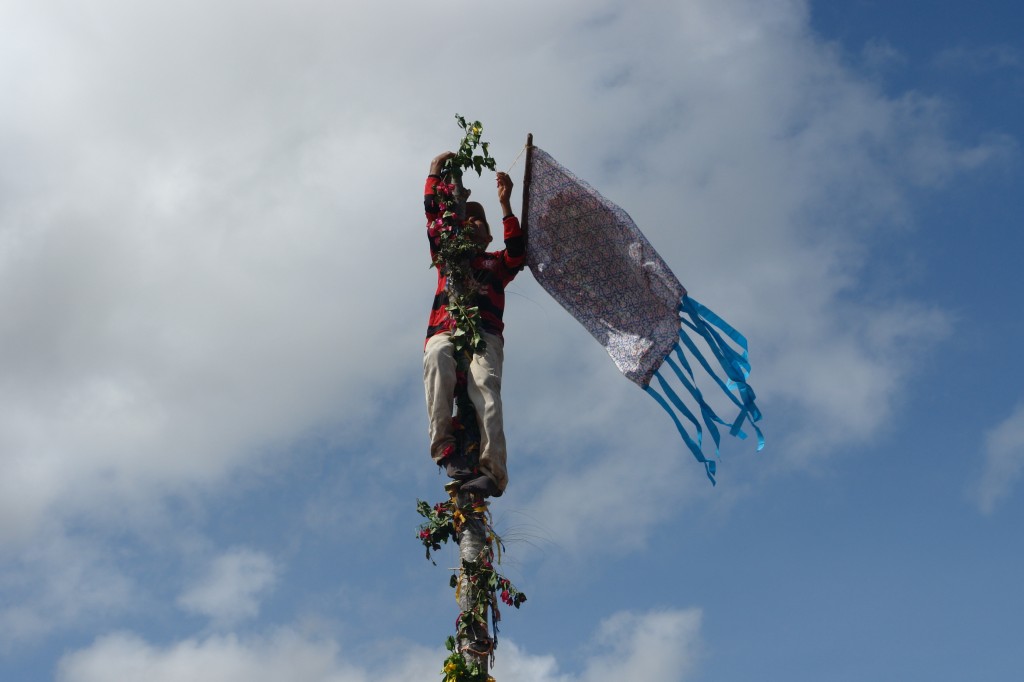 Antonio
The first thing to do in the village that had its patron saint celebrated in the day before was to honor and raise the standard. Santo Antonio was sung and prayed in Portuguese and Munduruku, because the 40 Indians who came from the Teles Pires and Tapajós rivers, where, like Belo Monte, plants threaten their lands, also need protection from this strong saint.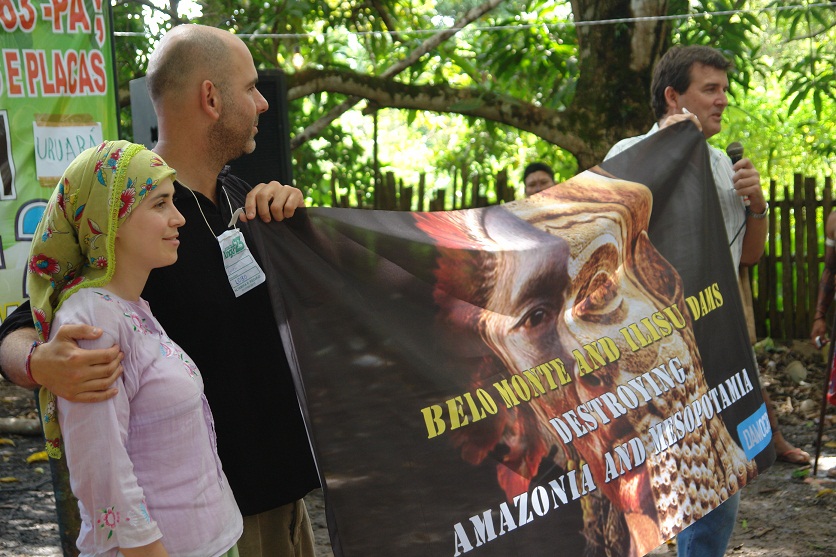 There, like here

Scheduled to be the leading moment to systematise the many denounces, the day was filled with testimonies from experts, such as the anthropologist Sonia Magalhaes – who gave an overview of the Belo Monte project and its environmental and social impacts – and those affected by the plant. But it also had the emotional participation of a couple of Turkish activists, who face very similar problems caused by the construction of the Ilisu hydroelectric plant.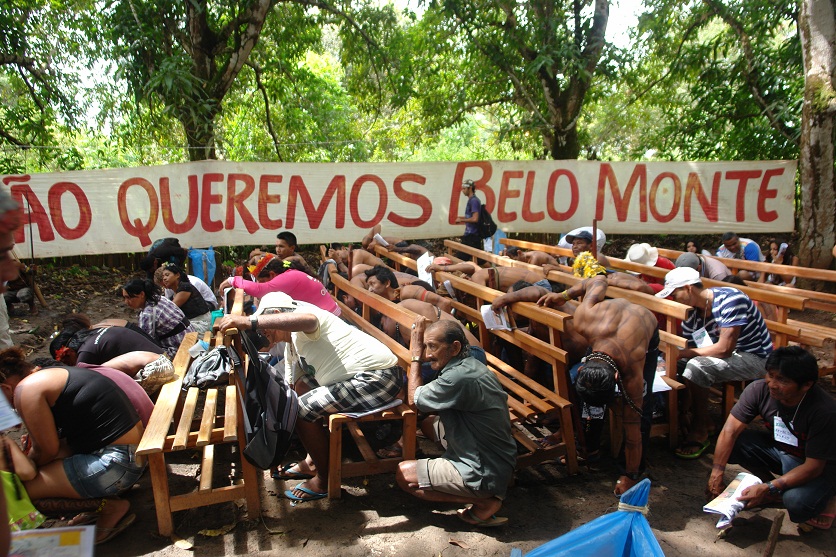 The dream
After the first table of explanations, increased slowly the music Gilberto Gil gave the Xingu +23 (http://www.youtube.com/watch?v=5QLnJLllS1A). Echoing between the mango trees that was making the hall of the assembly, the Sonho (dream) made come forth riverine, fishermen, farmers, Tembés, Jurunas, Mundurukus. In a soft voice, Ana, from the Xingu Vivo Movement, drew a sort of prayer, to which all bowed and touched the earth. Many to hide the tears that welled in absentia.
Testimonials
Elio, from Santo Antonio
I created my children on the backs of the Xingu. It was the richest river I ever known. But today the fishermen can not fish anymore. Each dynamite that explodes is like something was exploding inside my chest.
Amilton Machado, from Santo Antonio
I feel great pain in my heart. Prior, in the period of 7 to 11 am, we took 30, 40 kg of fish. Today we arrived 11 hours and only got two fish. This is very crazy at the heart. I was household here in Sto. Antonio, had no house so do didn't got nothing, no compensation. Today I live at my niece's house, of charity.
Carol, from Pimental (Mrs. Sebastião's daugther)
I would like to study medicine, but after that North Energy has taken our land, we have no more incoming source. They cut down all our cacao plantation, I feel hopeless. Today I have only the sad eyes of my mother and my father.
Elisvaldo Gomes, Assurini
In 2006 the Norte Energia (North Energy) appeared in the Assurini community and began to register the inhabitants, saying they would turn out everyone. Since then everybody began to expect for this day, and many gave up to plant because of it, just for waiting, and many people became depressed, and they (the North Energy) never resolved de issue. They said that in 90 days were going take us, and the time is passing and nothing happens. This waiting is disgraceful. And they are only doing it to divide the people. When we plan to organize ourselfes, they arrive and divide the people. Right now, we had a meeting to come to Xingu +23, and it seems that they smell it, because they went there and said that was not for us to go. And from 27 people who would come only came 8.
Vanderlei Juruna, from km17
I went to study in Goiania 11 years ago and came back now, and everything is different. Early as 1974 I heard my mother speak of this monster. Now I see in my village that the ethnic groups are thrown one against the other, leaders have been bought, there are people scared. My brother himself is silenced. I remember my mother and I cry, and I have to swallow as if swallowed flour. Today I sleep on a mattress on the floor, I have no job, living on insurance. But you can give blood in the shins, because if it is necessary, we will pour our blood (this is a literal translation, but the meanning of the phrase is that if they need, they will pour their blood fighting).
Valdemir Munduruku, drom Teles Pires
I got here with three emotions: a great joy to have found you all, a great sadness to see what is happening here, and great rage of the entrepreneurs and the government because they are doing it. The same happens in our region, the Teles Pires, where the plant has received an installation license. That's why we're here. Nature gives us life, and we'll give her our own. But I say we will never be bought with a market basket. From nature we get everything we need, do not need anyone to give us anything. We're here to tell the government that we are not kidding. If we need to be arrested, we will be arrested. Because one day we will released. And then come back.
Geraldo Munduruku, from Jacareacanga
This is my first time here in the Xingu, and I can not understand what the president is thinking. We Indians do not study much, but there is one thing: we know how to respect the things of God.
Rosenilda Munduruku
My people have fought hard, but who is now here am I. We women have the strength to fight with our people. We are against the dams of the Teles Pires, Tapajós and Xingu. We are proud to be here with you. I am a warrior and will fight to the end.